宝树共舞 | Dancing with Treasure Tree
2019-12-06
"城市光谱"计划
Spectrum City
地点:上海闵行区七莘路3655号
Venue:NO.3655 Qixin Road,MinHang, Shanghai
材料:不锈钢、亚克力、LED
Materials:stainless steel, automative painting, acrylic, LED
尺寸Size:620cm x 180cm x 800cm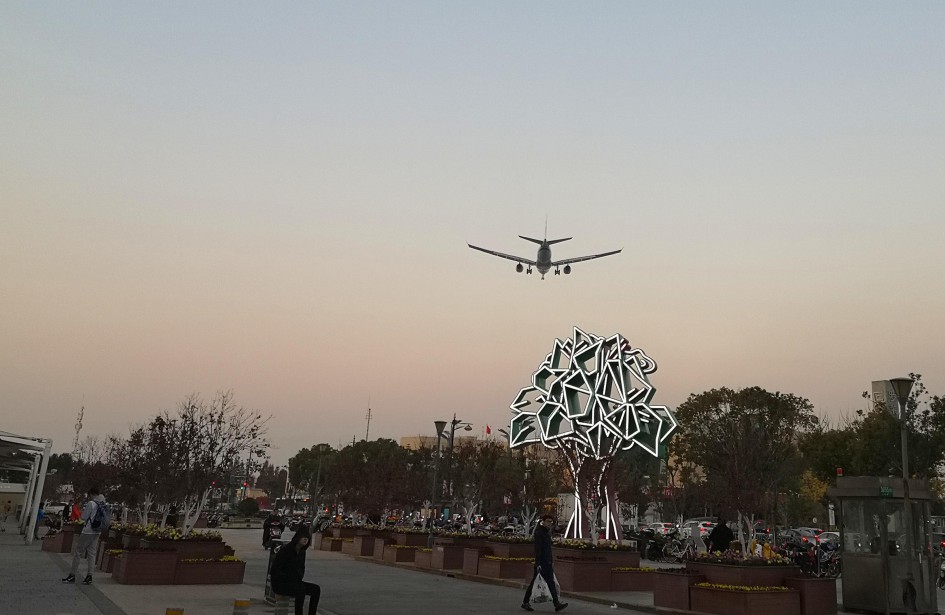 《宝树共舞》位于上海闵行区七莘路的七宝镇路段。至今拥有一千多年历史的七宝镇,文化底蕴丰富,民间一直广泛流传着其"七件宝物"的说法:飞来佛、汆来钟、金字莲花经、神树、金鸡、玉斧、玉筷。每件宝物均有故事,与七宝地域历史文化息息相关。
作品是以 "神树"为灵感,其树的原型是梓树。梓树实际上具有治疗药效,对人有诸多益处。传说建安五年,吴大将周瑜奉命东征。瑜于吴中东三百里处遇险,获梓树道人相救。道人以药汁治其箭伤,以鹤子化马赠与瑜。药汁取自千年梓树,马亦栓于其树,故千年梓树被称为神树。
艺术家以神树的传说为灵感,将梓树与"神气"相结合。同时,艺术家也延续了其《光语者》系列作品中简洁光线条的艺术脉络和风格,以艺术之光点亮环境,也点亮人们的业余休闲娱乐生活。《宝树共舞》在神树的形象基础上,以概括抽象的造型语言,剪影式的公共雕塑风格进行创作,富有摩登现代感。雕塑灯光的部分在夜晚透发出动态光芒,散发着"神树"的生命力,作品寄托了对于七宝人民美好生活的祝福。
"Dancing with Treasure Tree" is located on the Qixin Road within Qibao that has over 1,000 years of history and rich cultural heritage. It is said and widely recognized among people that there are seven treasures in Qibao (Qibao on text means seven treasures as well): the flying Buddha, floating bell, golden lotus-sutra chapter, treasure tree, golden pheasant, jade axe and jade chopsticks. Each has a mysterious legend closely connected to the history of Qibao.
The artwork is inspired by the treasture tree – a catalpa belonging to the seven treasures. Catalpa is often put in medical use. From the legend, General Zhou Yu from Wu was dispatched for aggressions in the fifth year of Jian'an, while he was ambushed on the way and rescued by the Taoist Catalpa. The Taoist cured his arrow wound with magical liquid and shapeshifted a crane to horse for Zhou Yu. The medicine was catalpa sap and the horse tied to the catalpa; therefore, the thousand-year-old catalpa becomes a symbol of the story and called as treasure tree.
The artist integrates the figure of catalpa with the sacredness, while continuing his iconic style from his previous series "Light Messenger" which was about clean light lines. It lit up the surroundings and people's leisure life. On top of the image of treasure tree, the artist combined with minimal design and silhouette style to the piece, bringing out a modern public art installation. During the night, as the tree lit with dynamic light, it seemly alive and full of vitality.